10 tips and tricks which can help you quickly improve your trading results

Here are 10 tips and tricks which can help you quickly improve your trading results. These are essential steps to get consistent results.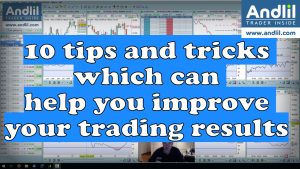 1) The choice of a broker
This is a fundamental step. Without a great broker and trading platform, you have no chance to earn money consistently. Choose a financially solid broker, offering security of your funds, regulated in a secure country and with good financial transparency (publicly traded company and/or annual financial results regularly published).
I chose to use ProRealTime Futures and ProRealTime CFD, which let me trade with the number 1 broker for CFDs and Futures and to get the Premium version of ProRealTime for free, elected best trading platform in 2016 and 2017.
More information:
2) The quality of the datafeed provided by your broker
In order to trade, you need professional quality datafeed with tick by tick data and not partial datafeeds like some brokers offer to save money at the expense of their clients. These partial datafeeds give a false vision of the market. Your technical indicators are based on these datafeeds and will not give correct information if the datafeed is incomplete. In this case again, the choice of a broker offering tick by tick data is fundamental.
More information:
3) The quality of your internet connection
The quality of your internet connection is important to trade with serenity and should not be neglected. Don't hesitate to change internet providers if you're not satisfied with your connection. I have noticed enormous differences between two internet providers in from my apartment.
More information:
4) A computer for trading adapted to your needs and well maintained
It's preferable to choose a desktop computer for trading which will offer better performance and stability than a laptop for the same price. Maintain and perform software updates on your trading computer regularly so that it maintains the highest possible level of performance.
More information:
5) Secure your trading computer and your trading activity
Buy equipment that will protect your internet box and computer from power outages. Always have a backup solution (ex: telephone with 4G internet access) in case of an internet outage at home in order to place your orders.
More information:
6) Set your trading and money management rules
It is very important to set rules for trading and money management and to always follow these rules. Your survival in the market depends on it.
More information:
7) Constantly evaluate the quality of your trading
To improve, you need to evaluate your own trading activity. Profit factor and maximum drawdown are good indicators to use for that.
More information:
8) Work on your own psychology to improve your trading
90% of trading results come from psychology. You need to work on this aspect and learn to control yourself, identify your weaknesses and analyze yourself like you analyze your charts.
More information:
9) Prepare your trading days
A trading day can't be improvised. You need to prepare for a trading day like a professional sportsman prepares for a competition. This preparation is a critical element which is often ignored.
More information:
10) Trading is serious business
Consistant results in trading can only be obtained with serious work. A lot of factors go into it, your trading environment must be good quality (broker, data, internet connection, security), and your work must be professional (trading rules, money management, evaluation of your trading, working on your psychological condition). Like a professional sportsman, the trader must neglect nothing to perform at the highest level.
Good luck trading to everyone!